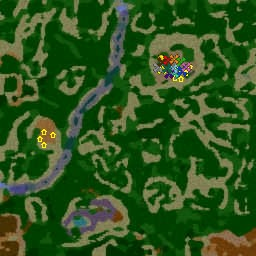 Download tại đây: http://www.epicwar.com/maps/91613/
Thể mục: 12 người
Người chơi: 8v4, 6v3, 4v2, 2v1
Thể loại: Melee
Đề: Lordareon Summer
Diện tích: 128 X 128
Diện tích có thể chơi được: 126 X 126
File nặng: 261.6 KB
Đăng vào ngày: Ngày 12 tháng 4 năm 2009, 8:40
Lời nhắn của tác giả:
by Danny974
Farmers must kill all hunters before the timer is end!

Fixed Glitches and Bug plus much more Balance!
Cách chơi: Nếu bạn là Farmer: Chặt cây làm 1 cái trại bí mật và nhớ là cái trại phải có 2 đường cho dễ chạy, xây nông trại để kiếm tiền và đừng để mấy con thú chạy lung tung, vì chúng nó có thể khiến cho Thợ Săn biết bạn ở đây và mấy con thú đó feed nhiều tiền cho thợ săn. Nếu bạn là Hunter: Tìm Farmer quanh cả map, tìm cho kỹ vào, mua sách để giúp mạnh hơn.
Giới ThiệuEdit
Community content is available under
CC-BY-SA
unless otherwise noted.